The Bridges Senior Program at Springbrook Hospital offers both voluntary and involuntary comprehensive treatment for older Americans. This treatment program is designed to meet the specific needs of adults over 55 years old suffering from serious addiction and mental health issues.
Older adults are an at-risk group for mental health and addiction issues, also known as dual diagnosis or co-occurring disorders. Put simply, medications and addiction can amplify mental health problems. With these challenges in mind, Springbrook's Bridges program can be a resource to helping your loved one regain their health and wellbeing.
Some of the most common mental health issues that older adults face include:
Anxiety
Depression
Bipolar disorders
Unfortunately, it can be difficult to tell between mental illness and cognitive decline that is a part of aging. When in doubt, the best thing to do is seek a diagnosis from a behavioral health professional.
The Bridges Senior Program is Springbrook Hospital's answer to all of these issues. We are devoted to making sure your loved one spends their golden years enjoying all that life has to offer, and we do it by helping them manage their mental illness and/or addiction.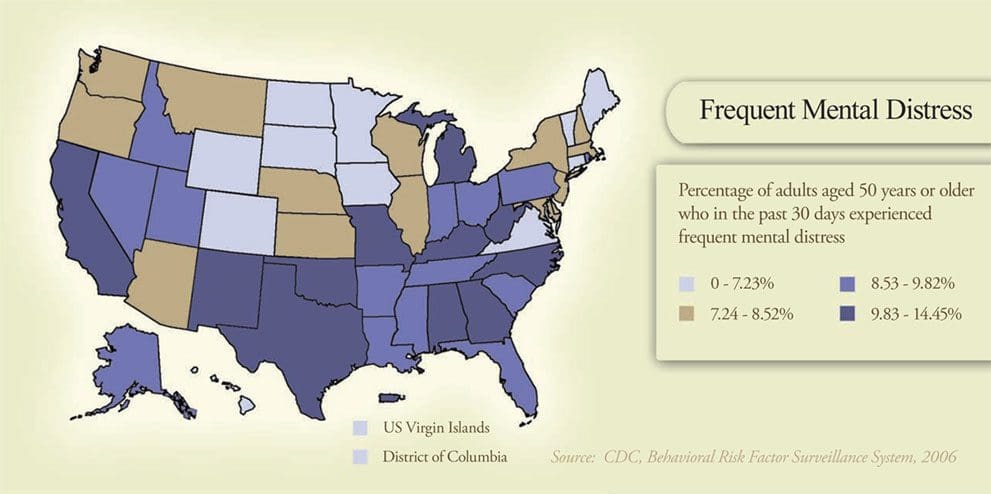 The National Institute of Mental Health Reports:
Older adults are at risk for suicide, too. While older adults were the demographic group with the highest suicide rates for decades, suicide rates for middle aged adults have increased to comparable levels (ages 24-62). Among those age 65+, white males comprise over 80% of all late life suicides.
Centers for Disease Control and Prevention and National Association of Chronic Disease Director Reports:
It is estimated that 20% of people age 55 years or older experience some type of mental health concern. The most common conditions include anxiety, severe cognitive impairment, and mood disorders (such as depression or bipolar disorder).
Older adults with depression visit the doctor and emergency room more often, use more medication, incur higher outpatient charges, and stay longer in the hospital
In 2006, adults age 50–64 reported more current depression and lifetime diagnosis of depression than adults age 65 or older (9.4% compared with 5.0% for current depressive symptoms and 19.3% compared with 10.5% for lifetime diagnosis of depression, respectively).
Geriatric Mental Health Foundation Reports
In the next 15-20 years the population of older adults will double.
2-4% of the elderly meet current criteria for alcohol abuse or dependence.
An additional 10-15% of the elderly meet criteria for at-risk drinking.
Concurrent depression and alcohol use increases in prevalence with age.
Past history of addictive disorders may increase the vulnerability to central nervous system disorders such as dementia and depression in late life.
Geriatric Mental Health Foundation was established by the American Association for Geriatric Psychiatry to raise awareness of psychiatric and mental health disorders affecting the elderly, eliminate the stigma of mental illness and treatment, promote healthy aging strategies, and increase access to quality mental health care for the elderly.